Video stores get squeezed by Internet, on-demand -Movie rental fans get more ways to pick a flick
Detroit News, The (MI)
February 22, 2005
Author: Adam Graham
For movie lovers, it's never been easier to bring Hollywood home.
Blockbuster is touting it has gotten rid of late fees. Netflix is urging you to hop on the computer and have movies sent directly to your mailbox. Cable services are saying don't bother with either, just order movies from the comfort of your couch, and Best Buy and Wal-Mart are luring you into stores with bargain prices on DVDs.
Clearly, the $9 billion home video rental industry is changing. The once-dominant video stores are being forced to adapt as consumers find more movie choices and good deals elsewhere.
Aga Polkowski of Waterford likes the convenience of Netflix, the popular online rental service. "I love how you don't have to make an effort and go to the store," she says. "I like making my list and having them just come to me."
Despite the increase of online movie rentals, the rental industry's revenues have continued to fall, dropping roughly 20 percent since 2001, according to Adams Media Research. That's led some video stores to eliminate late fees, which the trade paper Video Business listed as bringing in $250 to $300 million annually for Blockbuster.
One reason for the falling rental business is that most DVDs can be bought for less than $20, even less in their first week of release from chains like Best Buy and Wal-Mart.
That's a huge change from home video's heyday, when new VHS tapes cost in the vicinity of $70. With rental fees ballooning to $4 at some stores, many customers would sooner buy films than rent them -- folks like Eric Damore of Grosse Pointe, who last week chose to buy the horror thriller "Saw" rather than rent it.
Customers such as Damore represent a significant change in the market.
"It's a shift in consumer preference, from spending most of their money renting video to most of their money buying video," says Tom Adams, president and senior analyst of Adams Media Research.
Clearly, the old-school business model for renting movies has been tossed out the window.
Competition is coming from movies on-demand -- available to consumers through satellite dishes or cable providers -- and the Internet, where viewers can view movies through streaming video connections on their computers.
Then there's the increase in online mail-order rental services. Netflix subscribers pay a flat monthly rental fee and can rent films with no fear of late fees. Wal-Mart and Blockbuster have launched competing online subscription services, and there's talk Amazon.com may soon enter the fold.
Nick Shepherd, president of U.S. store operations for Blockbuster, says the no late fees policy was launched to boost the sagging rental market.
"We constantly looked at how we can reposition our rental business to make sure it was relevant to the customer," Shepherd says, and the results were the relaxation of late fees and the chain's in-store subscription service, where customers pay a flat monthly fee for unlimited rentals.
(The no late fees promise isn't entirely accurate; Blockbuster customers have a week after the film's due date to return it without penalty. After that, they're charged the cost of the movie. If they later return the film within 30 days, the charge is refunded, save for a small restocking fee. The confusion between the catchiness of the slogan and reality resulted in a consumer lawsuit filed last week against Blockbuster by the state of New Jersey.)
Blockbuster's new policy is long overdue, says Adams. "It's a strange business where you're constantly penalizing your customers for patronizing your store," he says. "It was necessary early on, where if (a movie) didn't come in that night you really did have to get paid for it, because you only had a few weeks to earn back your investment in the tapes. These days, everything costs $15 on DVD, and there's much less excuse for having that kind of adversarial situation with your best customers."
Netflix CEO Reed Hastings says he started his company after being burned by a late fee. "It was all my fault -- I was several weeks late -- but it just sat and ate at me, and I realized, I'm not the only one who feels this way about late fees. And that was really the genesis of starting Netflix," he says.
Netflix, launched in 1999, now boasts 2.6 million customers. Hastings says Netflix earned $500 million in revenue last year and is projecting more than $700 million in 2005. It distributes movies from its 30 nationwide warehouses, including the Lansing area.
Doug Willoughby is one of the reasons Netflix has grown.
"(My wife and I) have a problem with returning videos on time, so we decided to go this route," says Willoughby, 30, of Detroit. He says he loves the freedom Netflix allows him, like with the copy of "Les Miserables" he kept throughout the holidays because he just couldn't get around to watching it. "It's a great convenience," he says.
Manuel Villanueva of Warren subscribes to Netflix, Blockbuster Online and Greencine.com and receives a total of more than 40 movies a month. But he's become disillusioned with Netflix's service and started an anti-Netflix blog to voice his concerns.
Villanueva says since joining Netflix in August 2003 he's received 19 broken movies. He also says Netflix has capped his movies-per-month at 29, which contradicts the service's "unlimited rentals" slogan.
"I would say I'm against Netflix, only because of the service I've experienced," says Villanueva, 38, a registered nurse.
The changing video rental market has meant massive chains such as Blockbuster and Hollywood Video, which was recently gobbled up by Movie Gallery, have all but squeezed out mom and pop stores. In the early '90s, there were some 70,000 stores nationwide that rented movies, compared to 18,000 today. Still, "I see brick and mortar being around for 20 or 40 years in some form," says Netflix's Hastings. "It could become smaller or less profitable and one or two of the companies may have a tough time, but there's always going to be a market for people who don't want to use the Internet."
"A lot of times, people want to handle and paw the stuff before they rent," says Jim Olenski, owner of Thomas Video in Clawson. Olenski says online rental services have hurt the store's business, but not as drastically as they've hit other independent retailers.
To stay afloat, independent stores need to offer customers something extra. Thomas Video specializes in cult films, and also has a significant laserdisc and comic book presence.
"You just have to find a way to compete," says Olenski. He says his store has been in business for more than 30 years because it employs a knowledgeable staff and offers patrons movies on a variety of formats. He says the store still sees a significant amount of business through VHS rentals.
The rental business is also benefiting from, oddly enough, sales of movies.
Blockbuster and other video stores have placed an increased importance on selling new and used products. Blockbuster recently started a trade-in service, which customers are guaranteed a minimum of $5 store credit for their used DVDs.
Blockbuster's Shepherd sees trade-ins as "a future potential market. It's not a huge piece of our business today, but we know it's important in terms of extending our retail business."
Customers like Yolande Alexander of Southfield are a good sign for stores such as Blockbuster.
She and her husband rent movies on occasion, but are wary of subscribing to a service they may not use much, especially in the summer months when they hardly rent at all.
"We're the type of people where if it's a Friday and there's nothing else to do, we'll run and get a video. We don't really think ahead of time, well, we want to watch these videos within the next month, so let's put them on this list," says the 31-year-old teacher.
Her one complaint appears to be good news for the chains.
"It seems like there's always a long wait whenever we go to check out movies," she says.
Caption:
Yolande Alexander strolls through the new releases section at Blockbuster. Facing stiff competition from services like movies-on-demand and Web rental venture Netflix, the video giant recently dropped late fees in an attempt to keep customers.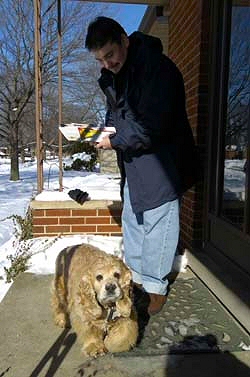 Mail-order services like Netflix bring movies straight to consumers like Manuel Villanueva of Warren, who gets over 40 films a month.
Section: Front
Page: 01A
Index Terms: MOVIES; INTERNET; BUSINESS; STATISTICS; CONSUMERS
Copyright (c) The Detroit News. All rights reserved.
---
Turnaround Predictor | Price/Rental Calculator & Turnaround Time | Broken Rental Ratio & Percent | My Opinion of Netflix | My Netflix Journal | Customer Opinions