TECHNOLOGY
Competition heats up for mail-order movies
Current leaders see challenge from Wal-Mart, Amazon ahead
By Dennis Nishi
Special to the Tribune
Published January 15, 2005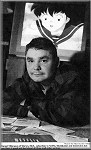 Manuel Villanueva, a registered nurse in Warren, Mich., watches 35 or 40 movies a month.
He currently subscribes to three mail-order services: Netflix, Blockbuster and GreenCine. But he's unsure of which to keep since he's found each has good and bad points.
"Netflix used to be a lot faster," Villanueva said. "Blockbuster is kind of spotty, but they have titles Netflix doesn't. GreenCine is pretty comprehensive. The only thing is that their distribution center is too far away and takes a while to get movies to me."
While Villanueva's heavy use of mail-order movie-rental services may not be typical, his growing frustration about uneven performance could play a critical role in shaping an emerging service, as such companies as Netflix, Blockbuster and even Wal-Mart fight to win subscribers.
Blockbuster has already dropped its basic subscription price twice and plans to merge its stores and online operations. Netflix dropped its basic price in response, and later this year it will join TiVo to offer video-on-demand over the Internet.
And both companies, while not yet showing much concern over Wal-Mart's offering, warily await another giant to enter the market, Amazon.com.
There is room for niche players too.
San Francisco-based GreenCine, for example, caters to exotic tastes like anime, cult and adult titles--something bigger competitors have shied away from. But analysts question whether it will survive since Blockbuster and Netflix have been expanding their offerings to appeal to the broadest range of customers.
And the competition is certainly heating up. A Netflix/TiVo offering, for instance, will eventually compete against the cable, satellite and phone companies that already have the advantage of studio licensing to distribute digital content. They have already introduced on-demand video in a few cities.
SBC Communications Inc. this summer will be offering an "all-in-one" package of digital video recording, on-demand video and broadband Internet access.
The movie rental business has changed dramatically already. Blockbuster, once the king of video rentals, has struggled as consumers have shifted to DVDs, which many people would rather buy than rent because they cost only three or four times more than a rental fee.
And then there are mail-order rentals, an arena Netflix has pioneered and Blockbuster has entered as well.
The marketplace is "driving people away from brick-and-mortar stores," said Shernaz Daver, a vice president of Netflix.
Netflix believes digital delivery of movies--either through a television or the Internet--is still years away from replacing the DVD, so it has no plans to change its core business.
"Look at the numbers of the DVD market," Daver said. "They're growing at a phenomenal rate. Even five years from now, they'll be strong."
Of course, the current model hasn't been without problems. Netflix and Blockbuster are at the mercy of the post office and a finite supply of titles.
Inconsistent delivery times continue to mar the experience for some and fuel defections from one service to the other. An in-house study conducted by Blockbuster found that more than 60 percent of their new subscribers came from other providers.
Blockbuster is working aggressively to transform the DVD rental business, giving customers the choice of going into a store or ordering online and getting movies by mail.
The chain essentially wants to turn its 5,500 stores into distribution centers, which it believes will improve delivery times for newer releases and make lower price points profitable.
In contrast, Netflix has 30 distribution centers near major mail-sorting facilities.
"We want to be able to take our products in the store and give them to online customers," said Shane Evangelist, senior vice president and general manager of Blockbuster online. "We want to deliver in one day to as many places as possible. What that does for us in the long term is drop our price significantly."
Blockbuster has already garnered some success luring online subscribers--most of whom were not Blockbuster customers--into stores by offering two free in-store coupons a month. The coupons are redeemable for movies and games.
And by offering video games, Blockbuster has an edge on Netflix. While not yet offered online, games are being considered and may turn out to be a bonanza since they now account for a large part of in-store rentals.
Daniel Ernst, a media technology analyst for Hudson Square Research Soleil Securities, is skeptical of Blockbuster's plan. He compared it to how Barnes and Noble tried to compete against Amazon. "They're trying to find some way to fix the service by leveraging their store base," Ernst said. "Barnes and Noble leveraged their stores to compete [online] with Amazon and it didn't work. It will be a logistical nightmare."
Sean Badding, an analyst for the Carmel Group, said, "Barnes and Noble were trying to leverage their stores to push their online stores to compete. But they didn't have a strong online store themselves.
"They had a half-baked solution to a very superior Amazon model. [Barnes and Noble] didn't have the ability or knowledge to do it then."
The difference between the two services is that Blockbuster carries and rents more new releases than Netflix. The majority of titles Netflix recommends to subscribers and sends out are older movies. And though Netflix began by appealing to renters who wanted more esoteric movies than the chains offered, its customer base has grown and has become more mainstream.
Two other big players are looming on the horizon.
Wal-Mart, with all of its clout, has made only modest inroads, but Amazon continues to be the biggest threat to the market.
Amazon already has a huge customer base comfortable with ordering online and would not have to work as hard to acquire new customers as the other services do.
Amazon has launched a DVD rental service in the United Kingdom, which analysts speculate is a test to shake out bugs for a potential U.S. rollout.
Daver of Netflix draws comparisons between his company and Amazon before the giant online retailer became a public company.
He points out that a loyal following made Amazon successful.
"Amazon was independent and unique. There were a lot of diehard Amazon fans. Now Amazon has a lot of size and DVDs are one of many businesses," Daver said. "We are solely devoted to online DVD rental."
- - -
Comparing the plans
Company: Blockbuster
Subscriptions: $14.99-$37.49
Standard plan: 3 out at a time; $14.99 a month for unlimited rentals
No. of titles: More than 30,000
Enticements: Two-week free trial; two in-store coupons good for games and movies
Company: GreenCine
Subscriptions: $14.95-$59.95
Standard plan: 3 out; $21.95 a month for unlimited rentals
No. of titles: More than 18,000
Enticements: Offers hard-to-find independent titles, adult and some downloadable movies
Company: Netflix
Subscriptions: $11.99-$47.99
Standard plan: 3 out; $17.99 a month for unlimited rentals
No. of titles: More than 30,000
Enticements: Two-week free trial; offers networking feature called Netflix Friends and queue (wish list) sharing
Company: Wal-Mart
Subscriptions: $12.97-$21.94
Standard plan: 3 out; $17.36 a month for unlimited rentals
No. of titles: More than 16,000
Enticements: 30-day free trial
Copyright © 2005, Chicago Tribune
---
Turnaround Predictor | Price/Rental Calculator & Turnaround Time | Broken Rental Ratio & Percent | My Opinion of Netflix | My Netflix Journal | Customer Opinions